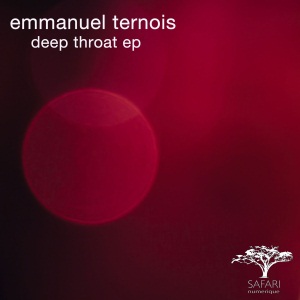 Inspired by jazz, funk and disco music as well as the work of artists such as Cannonball Adderley, Alice Coltrane, Patrick Adams,  Stones Throw Crew, The Pharcyde, Kenny Dixon jr, Derrick May…etc., Emmanuel Ternois started to mix house/techno music in 1991, as a DJ in Rennes city, France. At that period, Emmanuel mixed at rave parties and then began an established DJ at L'Espace club in which he had a residency and performed in Paris at some very famous clubs such as Queen and Wagg.
After a break, Emmanuel Ternois is coming back on the techno/house/deep scene alone or with his accomplice Arnaud Le Texier, famous DJ/Composer from London. Fostering his performances, he has been exploring how to encompass various influences for composing an original and innovative music.  Emmanuel Ternois produces for various labels such as Children of Tomorrow, 20/20 Vision, Safari Electronique.
Today Emmanuel delivered for Safari Numerique some tracks with his samples touch that we love, followed by 2 remixes from Niedermeier & Whitehead (Bulletdodge)  & Rainer (Serialism / Remake Music).
SAFNUM010 : Emmanuel Ternois – Deep Throat EP
1 – Deep Throat
2 – Deep Throat (Mental Tool remix by Rainer)
3 – Dillinger
4 – Dillinger (remix by Niedermeier & Whitehead)
5 – Fatless
6 – Interlude
Out on digital May 30th
LISTEN & BUY : Emmanuel Ternois – Deep Throat EP (incl. Rainer and Niedermeier & Whitehead remixes)
DJS FEEDBACK
luvin it Dj Gregory – really cool and diverse ep Anthony Collins – deep throat is super cool Nima Gorji – good stuff i like the remix of niedemeier Gel Abril – cool ep will play those traxxx Franck Roger – again another great release! Tiefschwarz – deep throat is nice Catz n Dogz – Original of Deep Throath is slick as a black panther… grooovin!!! Joel Alter – nice ep! Federico Molinari – very nice release..Rainer's rmx best for me Cesare vs Disorder – wikiiid!!! super thank you for this amazing music Audiofly