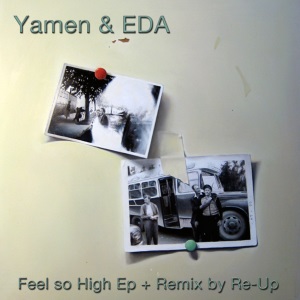 We are really pleased to have on board these two new talents from France : Yamen and EDA!!! A magnificent deep EP with class atmospheres which is a perfect summer deep jam for your forthcoming summer parties. Yamen & EDA decided to blend their knowledges and creativity to create a new duo and bring up a personnal and mature house sound. Following their highly successful Back In A Day EP, Re-UP are back to Safari Numerique and provide this EP with a classy deep & techy remix… Don't miss it!
SAFNUM020 : Yamen & EDA – Feel So High EP
1 – Happy Shoes
2 – Feel So High
3 – Downtown Motel
4 – Happy Shoes (Remix by Re-Up)
Out on Beatport June 25th 2012, out all digital July 23rd
DJS & MEDIA
i love it Tiefschwarz – great ep Guti – Amazing EP… Happy Shoes and Feel So High are proper hip movers… word! support from NYC Kev Obrien – Feel So High is super dope. Nice EP! Pure mood Alland Ballyo – great ep, i like all tracks but feel so high is definitily my favourite here… Martin Landsky – lovely deep ep all cool Gel Abril – re up did it once again on safari..niceeee Franck Roger – Excellent package – will support Diesel – re-up mix is dope Someone Else – Downtown Motel is great Shinedoe – RE- UP rmx for me here! Luciano Esse – "Happy Shoes" sure is one DEEP Jam! will play 🙂 Silicone Soul – very nice, absolutely for me the remix of one of my fav producer now RE-UP is massive 🙂 Leon – re-up for me. Dalino Schneider – GOOD!!!! Antonio De Angelis – REALLY INTO THE RE-UP RMX Terrence – nice stuff Antony Collins – Happy Shoes is the one!! Ingo Boss – Good EP, Re-up is my choice… deepness and sex Alexkid – nice deep tones Andrew Grant – nice ! Phil Kerian – Full support on this EP i feel the deepness here Master H – great release of the two french youngstars Robert Dietz– nice stuff , feel so high for me Shlomi Aber – liking the deepness of happy shoes Stuart Patterson – very nice ep,will play for sure,happy shoes original and rmx by re up. Grego G – summer one indeed… love it, thanks Rodriguez Jr – will play, all good tunes Cesar Vs Disorder – Amazing EP… Happy Shoes and Feel So High are proper hip movers… word! support from NYC Kev Obrien – fat ep!! hard to pick my fav! full support!!!! David Labeij – coool ep Tsugi – Happy Shoes Re-Up Remix my fav. Full Support Docepulgadas – Reviewed in De:Bug. Played by Richie Hawtin, MANDY, Sven Vaeth, Steve Lawler, Magda, Jesse Rose.