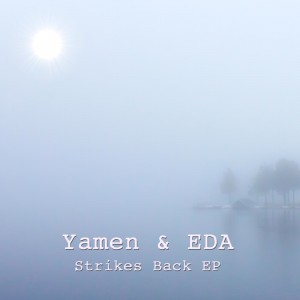 Safari Numerique presents

:
After there really great release on Safari Numerique last year, we are really happy to have back Yamen & EDA. A nice deep & warm EP as usual. Remixed by Julien Sandre a regular on Safari and an artist how is growing up more & more.
Already supported by : Loco Dice, Tiefschwartz, Magda, Cesare VS Disorder, Nima Gorji, DJ Sneak, Alexi Delano, Luciano Esse, Silicon Soul, Martin Landsky, Re-UP, Jess Ross, Steve Lawler, Etc…
Feedbacks :
Loco Dice – Will play WAV please D – Ali Schwarz / Tiefschwarz – great release. thanks a lot – DJ Sneak – well balanced ep, very cool. – Alexi Delano – Nice one thanks!! – Re-UP – Cool ep from our dudes Yamen & EDA!Say oh! is the track for me thanks! Leo – Luciano Esse – Great tracks! Julien's remix is very good too! – Silicone Soul – very nice ep , thankyou – Martin Landsky – strikes back for me here…. – Master-H/KOMPLEX DE DEEP – Strikes back original is dope! – Jesse Rose – nice one! – Cesare vs Disorder – good tools,will play, thanks – Magda – Download for Magda – Ingo Boss – "Strikes Back" nice smooth track – great vocals downloaded for Sven Väth best regards from Cocoon *ingo boss* – Sergio Parrado – Nice ep!!! i play !!! thanks! – F.E.X – i like the 3 originals, cool release to play – Alex Murak –  Say Oh for me – Alland Byallo – Fat deepness. Everything here is so solid! – David Labeij – FAT!!!! – Pepperpot – Super Nice Release. I like all 3 original tracks. Will play and chart it. Thanks for the promo. – Claude VonStroke – DL for VonStroke – DJ T.will download. thank you for good music! – Someone Else – say oh – Gel Abril – quality ep here say oh my fav but all others are good as well tnx! – Richie Hawtin – downloaded for r hawtin – Mirco Violi – great music.play for sure. – Nima Gorji – Thanks for the music ! Downloading for Nima Gorji . Steve Lawler – Downloading for Steve Lawler etc…
MEDIAS :

Tsugi –Â cool ep tx – Resident Advisor –Â Strikes Back Original Version –Â  thanks! – djmag spain scanmode –Â Julien Sandre Remix for me! Thanks! DocePulgadas RadioShow– Nice Ep, thx
SAFNUM027

 : Yamen & EDA – Strike Back EP + Julien Sandre Remix


1 – Strike Back Original Mix
2 – Shaman Groove
3 – Say Oh!
4 – Strikes Back Remix By Julien Sandre